OG diva and "the undisputed Queen of Soul" Aretha Franklin announced earlier this week she was hanging up her microphone after one final album of originals this year, which will be produced by another influential music legend no less, Stevie Wonder.
For a generation that didn't grow up with Aretha topping the charts and being a mainstay in the spotlight, she is probably better known for that wig-snatching gif and various viral moments. There's the iconic Inauguration Hat memes and that time we gagged at Cissy Houston rolling her eyes and half-arsing her way through Aretha's performance of 'Rolling In The Deep'. The internet has also kept a catalogue of her shadiest moments like when she snatched her arm away from Patti Labelle when the singer tried to congratulate her and let's not forget that masterclass in top shelf shade when Aretha was asked her opinion on Taylor Swift and only offered: "Okay… um. Great gowns. Beautiful gowns."
In a time where 'icon', 'diva' and 'queen' titles are thrown at anyone with a big enough Gay Twitter following, I like to think that individuals of cultural impact on Aretha's stratosphere (of which there aren't many) are still regarded with a special, untouchable kind of status.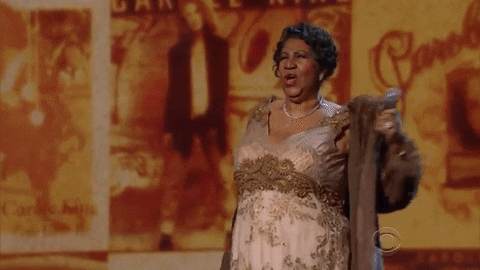 When we think of Aretha Franklin, we think 'Empress Diva of Soul with zero fucks to give', we think of 'Respect', we think of 'Think', we think of the 98' VH1 Divas Live concert (which also featured other greats like Mariah, Celine, Shania, Gloria Estefan and Carole King). But we don't seem to check for the latter part of her career as much. Sure she's not as active as she was in her hey-day but Aunt ReRe was definitely still putting down some moments in music over the last 20 years or so.
So, in light of this retirement announcement, I've decided to sift through some of her original records from the 90s onwards and see what we might've missed.
'A Rose Is Still A Rose' (1998)
A poetic feminist jam written and produced by Lauryn Hill especially for Aretha's 1998 album of the same name. Now, I actually remember this one because there was a time where MTV played music videos and there was a time where music video stations played the latest hot hit by Aretha Franklin.
Looking back, this video is like the most amazingly 90s thing I've ever seen. Those massive bomber jackets that were a staple in mainstream R&B music videos, and Queen Aretha posted up in some of the best wigs of her career, looking like Earth Mother draped in luxurious fabrics, trilling life advice by the piano in some kind of synthetic Garden of Eden in the projects? I live.
The album, which also featured songs written by Puff Daddy, Faith Evans, Jermaine Dupri and Dallas Austin, was a remarkable exercise in modernising the diva's sound and reconnecting her with a younger audience. It remains Aretha's most critically acclaimed and best-selling album of the 90s.
'Never Gonna Break My Faith' with Mary J. Blige (2006)
A stirring gospel anguish written by Bryan Adams for the Bobby soundtrack. This Golden Globe-nominated song is a powerful meeting of two of America's most prominent female soul singers. It also showed us that while demand for a full album of Aretha's originals were at an all time low, you could still 100 per cent count on her to deliver that one king-hit performance. One big performance is all it takes. Wham, bam, thank you ma'am!
'Don't Waste My Time' – Mary J. Blige with Aretha Franklin (1999)
From Mary J. Blige's critically-acclaimed album Mary, this hefty, angst-filled duet where a larger-than-life Aretha urges Mary to move on from a deadbeat relationship is mostly the former diva hollering over the latter. But for lovers of this kind of over the top and gospel-derived style of singing, it really doesn't get any better than this. The pair even picked up a Grammy nomination for Best R&B Vocal Performance by a Duo. It really makes me yearn to see more female artists coming together and showing solidarity and sisterhood in songs.
'Put You Up On Game' with Fantasia (2007)
I've always enjoyed the back-and-forth kind of duets Aretha's done in her career. Check the sassy and brashly 80s pop shakedown with Whitney in 'It Isn't, It Wasn't, It Ain't Never Gonna Be'. Here the OG diva plays a nosy, older woman giving a young and seemingly naive-in-love Fantasia some relationship advice on a modern R&B ballad format, produced by The Underdogs.
Fantasia is without question one of the most brilliant and under-appreciated old school soul singers we have today. She is part of a dying breed and I fear almost daily that she'll never achieve the mainstream recognition she deserves. The ad-libs at the end of this song gives us just a hint of what could have been had these ladies been able to perform this live and just jam with no restrictions.
'Everybody's Somebody's Fool' (2003)
A pensive ballad, written and produced by Janet Jackson's hitmakers Jimmy Jam and Terry Lewis, where Aretha shakes off a shady frenemy who constantly pokes at her relationship, questioning if she knows where her man's been and what he's up to etc. LOL. Sounds like a scene straight out of Real Housewives of Atlanta.
Despite appearing blind to his bullshit, Aretha reasons, "a little bit of my man's sweet love is a whole lot better than none of it". Queen of Drama and Real Talk.
'Mary Goes Round' (1991)
Aretha's brief and poorly-received foray into New Jack Swing is probably best left in the crypt of the 90s but this What You See Is What You Sweat (I know right?!) album track is nonetheless an interesting showcase of what happens when you infuse her style of spirited soul with the exuberant, dominant dance music style of the time. Here ReRe manages to throw everything at you, from deep growls to even a hint of vampy dance captain realness in the spoken word bits ("Turn the corner right! Turn the corner left!"). Very much a product of its time, as they would say.
Until next time, you can catch me tweeting here at @feedlimmy.