It's barely lukewarm let alone been a hot take, so I reckon let's not jazz it up too much around here. For the past few weeks I've been getting my ass into the habit of blogging once a week (because I really miss doing it). I couldn't think of a proper catchy way to package this whole weekly pop opinion piece/ round-up of things that caught my eye shebang, so my brain in a hungover state farted 'Limmy's Hot Take', which let's face it… wasn't all that great or accurate. So scratching that title. That title is cancelled. She is done.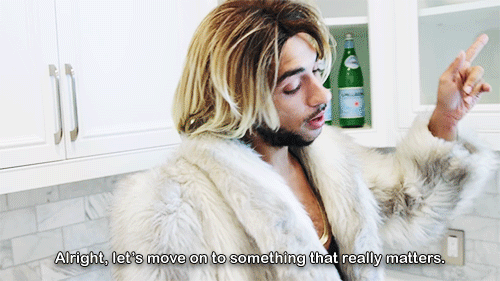 A lot has changed in the pop blogging world since I started Feed Limmy in 2008 (I had another pop blog on Blogspot for like two or three years before that). Lots of people from when I started aren't doing it anymore – real life happens, they end up getting very good jobs and you know, you get too busy to keep it up.
In the last 10 years I've met so many amazing people through doing this. I found my tribe on Twitter. People who were into this stuff as much as I was. Growing up in Melbourne suburbia, I didn't come across very many people who were as passionate about pop music as I was. Pop was frowned upon as 'guilty pleasure' and somehow it was made even more unbearable for me to express my love for it when people started calling me 'faggot'. I'd dread every single time Geri's 'It's Raining Men' or Christina Aguilera and co.'s 'Lady Marmalade' came on the radio after the lunch time bell. So after leaving high school and having my own little corner on the internet to write about all the great stuff I was listening to and being able to share it with like-minded Twitter friends was a real game changer for me.
Now that I guess I actually am part of this industry, I do see things a little differently and have to obviously, you know, gurl's gotta eat and gurl's got bills to pay so he's gotta be careful of how he frames his opinions. I also now see hype and media coverage very differently. I appreciate it more, of course, knowing how much goes into it. I am more sympathetic to artists as well and I am also increasingly aware that the more I see the less I know. And I'm OK with that. It keeps me on my toes. This is such a rapidly evolving industry that it's now more important than ever to question what is really important and relevant.
Everyone in the music industry is going crazy over 'ones to watch' type lists right now -i.e. the BBC's Sound of 2017, Brits Critics' Choice Award, MTV Brand New, VEVO dscvr, … *Shirley Caesar voice* YOU NAME IT! They are all huge targets for label marketing and music PR types because they are, of course, a really big stamp of approval for any emerging artist and it's what separates them from other newcomers. It's the difference between getting booked to play Wembley or a dive bar as the fourth support act, shopping at Selfridges vs. living on Lidl vouchers – you get the picture. The success story that gets wheeled out a lot: Adele. Her career started with a bang when she won the BBC's Sound of 2008 and then her debut album 19 went on to win the Brits Critics' Choice Award and then came a Grammy nomination and so on and so forth.
You also tend to notice the same names being hyped and thrown back and forth around this season. Sometimes people still talk about them after a year, sometimes they barely get a mention after three months. The hype can fade as quickly as it rose. As the years go by, however, it seems increasingly difficult to call who might actually their way to the top as the true rising star of the next 12 months.
BBC Sound of 2017: Could an urban artist win it – and actually dominate the year?
This week the BBC announced their Sound of 2017 longlist, informed by tips from 170 critics, DJs and music writers. You know, people in industry who really know their shit. While it's obviously a practice of self-fulfilling prophecy, I do find it quite exciting to discover new artists this way and see who is tipped for big things.
These are the ones tastemakers are not only predicting will shape the sonic trend of 2017 but also represent what will be most commercially successful. It's actually incredible that the list is dominated by urban music acts. MTV UK also released their shortlist of Brand New 2017 acts with the same handful of urban music rising stars AJ Tracey, Nadia Rose, Ray BLK and Stefflon Don.
It would be great to have a real and raw British R&B star like Ray BLK reaching Adele and Sam Smith level of mainstream dominance. Hailing from a working class background in South London and proudly embracing her roots ('My Hood' is basically her 'Hometown Glory' but less vanilla and tea cakey), I so want to believe the UK is ready to really big up an artist like her instead of another prosaic guitar noodling substitute for Ed Sheeran, but from what history has informed us that is rarely the case. It's been years since we've seen a super real and distinctly British R&B act embraced by the mainstream. Seriously, please name me one. Whoever it is that ends up taking home the Sound of 2017, I hope we don't see a repeat of what happened with this year's lot.
Jack Garratt, who won Sound of 2016 was literally everywhere at the start of the year. After being announced as the Sound of 2016, he went onto collect the Brits Critics' Choice Award and then wasted no time in releasing his debut album in February, which entered the charts and peaked at #3. It only stayed in the Top 20 for two weeks and then he sort of vanished. By summer, the name seems like a vague memory. Runner-up Alessia Cara, a soulful teen Youtube sensation from Canada, didn't manage better either. While the brilliant breakthrough hit 'Here' flexed for a really bloody long time, her album only managed to peak at #14 and subsequent singles missed the Top 50 altogether. She was nominated for New Artist of The Year at the American Music Awards but lost to ZAYN. I only remembered I had bought her album when I saw her pop up as a feature creature on a Troye Sivan single a few months ago.
Maybe part of why Garratt's hype wasn't sustained was because there are literally hundreds of artists doing the type of electronic-R&B fusion with scratchy soulful, folk singer vocals. The market was already saturated by the time he came into primetime attention. But perhaps maybe why it didn't work was because the tunes just weren't memorable at all. They go to great lengths to stress he is a multi-instrumentalist, which you know, instills a level of authenticity, and his work is very immaculately produced but where are the tunes? Where is the song that makes people feel something?
Sometimes I think people in our industry forget that all these accolades and lists don't really matter to the vast majority of the record buying public. Most people don't care. People will buy records they connect to. People will support artists people they like.
Every single one Kylie's retro hits are now on Spotify
On Friday, without formal warning, all of Kylie's Stock Aitken and Waterman era releases (her first four albums, which were all bloody huge) suddenly appeared on Spotify. I am talking not just all the albums but all the remixes, the B-sides, you name it. I am literally gagging.
This is sort of a nice reminder of one of the many highs in Kylie's long pop career. While the Christmas stuff she's doing now is a very clever and savvy business decision, I can't stress how much I need for her to return to making brilliant pop for the other 11 months of the year.
Check out my 30 favourite 'retro' Kylie tunes:
Top tunes of the week
MUNA 'I Know A Place'
L.A. girl band MUNA has delivered a shimmery, feel good song for the LGBT community. According to Time, 'I Know A Place' is "meant to be a rallying cry and a reminder that safe spaces can exist". If you're into HAIM, you need to get into this.
Nicole Millar 'No Bad Vibes'
Smoky-voiced Australian singer Nicole Millar definitely should be on everyone's pop radar. 'No Bad Vibes', taken from her new EP Communication, is a calypso pop treat with trap beats about blocking out negativity.
Decco featuring Mapei 'Shooting Stars'
It's good to hear from Swedish-American soul pop singer Mapei. Can't believe 'Don't Wait' came out three friggin' years ago. This twinkly radio-ready club pop tune is possibly the most commercial sounding record she's done and I'm here for it. Part of me wishes Alexis Jordan would come back with something like this right about now.
Hyoyeon (from Girls' Generation) 'Mystery'
I'm still shook from Tiffany's "I Just Wanna Dance" earlier this year so it's great to see that K-pop's longest running girl band Girls' Generation has yielded yet another solo star. Hyoyeon's debut solo single 'Mystery' ("Miss Terry" if you're nasty and singing along) is much more rhythmic, giving you Bhangra beats that nod to Selena Gomez's 'Come and Get It' but much spicier.
And finally…
On this day 10 years ago, Emma Bunton released her last solo album Life in Mono. I'd be quite happy if she banged out another Free Me, which I guess was what Life in Mono was meant to be but not quite on the same breadth of excellence. Although I still enjoy the title track, 'Wasn't Looking (When I Found Love)', 'All I Need to Know' and 'Take Me To Another Town'.
The album features her cover of 'Downtown', as you might remember. It was the BBC's Children in Need charity single that year and reached a peak of #3 on the UK charts.